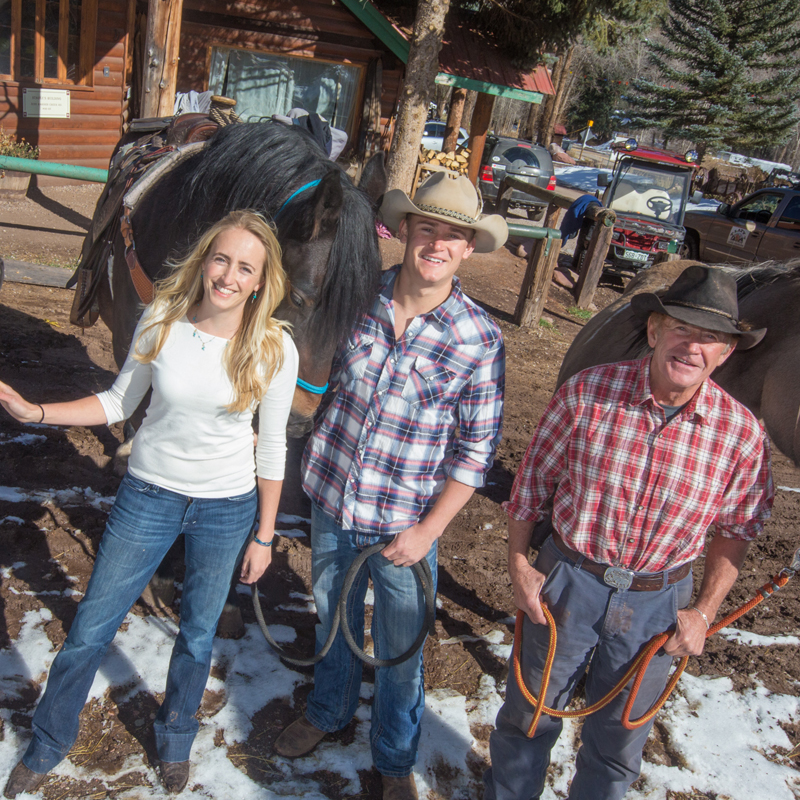 Rick, Besha and Jesse Deane, the current stewards of the T-Lazy-7 Ranch.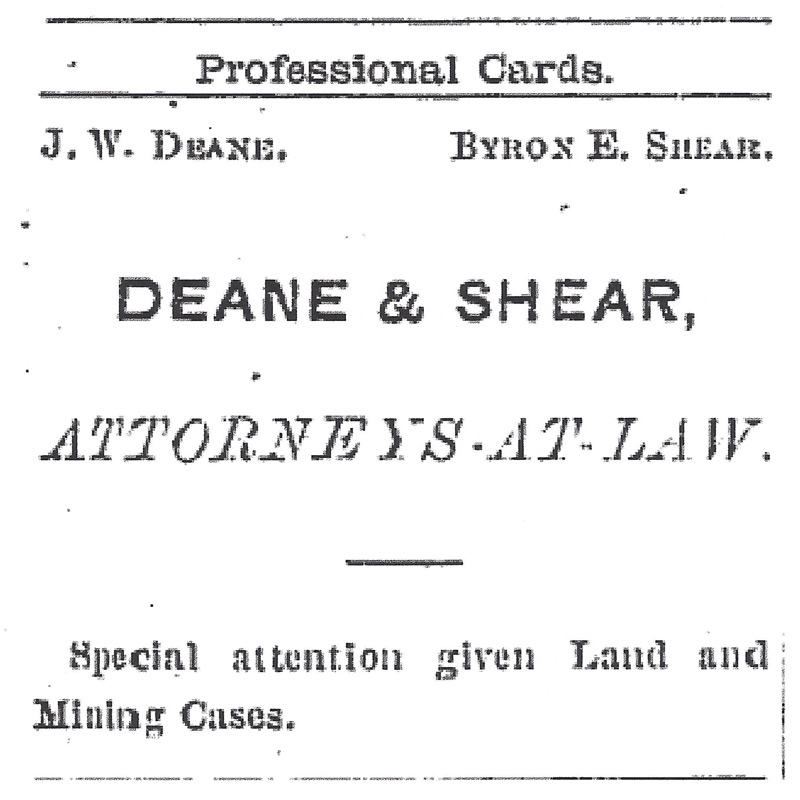 J.W. Deane's law office advertisement in the Aspen newspaper, Rocky Mountain Sun, on July 30, 1881.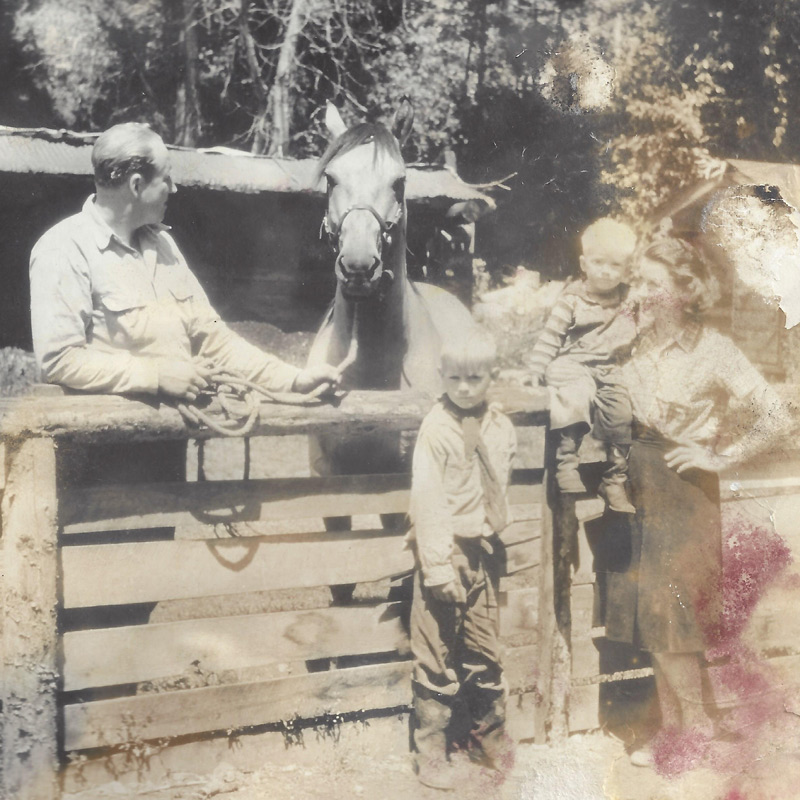 Life on the T-Lazy-7 Ranch with Had, Lou, Buck and Rick in 1947.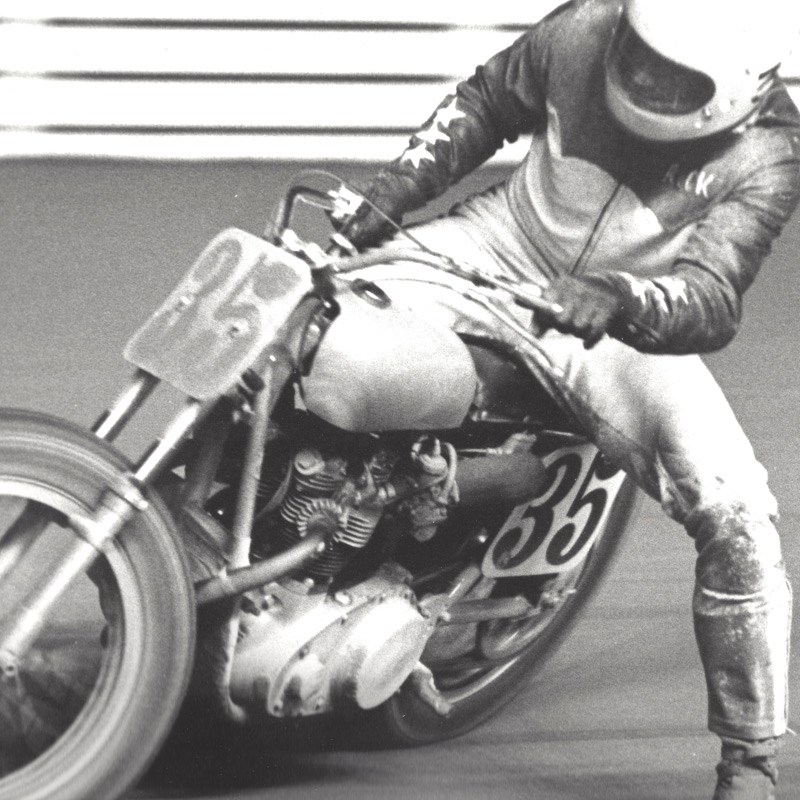 Rick Deane competing in the 1971 Roosevelt Downs Race in Long Island, NY. Among his racing accomplishments, Rick held the national number thirty-five and three world records at the Pike's Peak Hill Climb 1973′ 75′ 76.
The Deane family history goes back to the arrival of the pilgrims in America, while the Deane history in Aspen begins with Josiah Deane, one of Aspen's founding fathers and original settlers.
Josiah Deane traveled on foot from Leadville over Independence Pass (then Hunters Pass) with eight other men in the Clark B. Wheeler party to arrive in Aspen (then Ute City) on May 11, 1880. Josiah "Judge" Deane's contribution to the development of Aspen was considerable. He was instrumental in the changing of the name of the town from Ute City to Aspen, played a vital role in the famous Apex Suit which made legal history for mining, and was a key figure and advocate for the development of the highway (Hwy 82) over Independence Pass. A man of firsts, he opened Aspen's first law office, was appointed the first county judge, helped build Aspen's first log house, and organized Aspen's first subdivision called "Deane's Addition," which spanned eight square blocks at one time along the base of Aspen Mountain.
Judge Deane and his wife, Lottie, raised their son, Harry, who left Aspen to follow his mining endeavors in Nevada. Harry and his wife, Selma, had a son, Harold (Had), who spent his childhood summers visiting his grandparents in Aspen. After playing with the Chicago Bears, Had married and moved to Aspen in 1936. He and his spirited wife, Louise (Lou), who was a Broadway and Silent Silver Screen actress, purchased land in the Maroon Creek Valley that would quickly become known as the T-Lazy-7 Ranch.
Had and Lou were a colorful pair who raised cattle, horses and a family on their rustic ranch.
Had invited friends and business associates to experience the recreational activities of ranch life –  riding, fishing and hunting, and Lou turned entertaining guests into a business, making T-Lazy-7 a bonafide guest ranch. Guests were plentiful and included family, friends, neighbors, city folks and celebrities from Lou's Hollywood days. The T-Lazy-7 Guest Ranch grew and expanded to include sleigh ride dinner dances, summer cook-outs, horseback riding, fly fishing, pack trips, and children's summer camps. When Had and Lou's children were grown, they each contributed in their own way to the ranch. Buck, a talented musician, played with his country-western band at the ranch dinner dance parties, and Rick, an accomplished motorcycle racer, started a snowmobile tour business, which is still going strong after over 50 years. T- Lazy-7 Ranch has also been, and continues to be, the backdrop for movies, photoshoots, and T.V. commercials, such as "Aspen Extreme, Devil's Doorway," Marlboro, American Eagle Outfitters, Elle, and number car companies.
Today T-Lazy-7 is as busy as ever with the fourth and fifth generations of the Deanes running the ranch. Guests enjoy this mountain paradise for weddings and events, while recreational enthusiasts take part in snowmobile tours, horseback riding and fly fishing. T-Lazy-7 Ranch's past is as rich as its future is bright.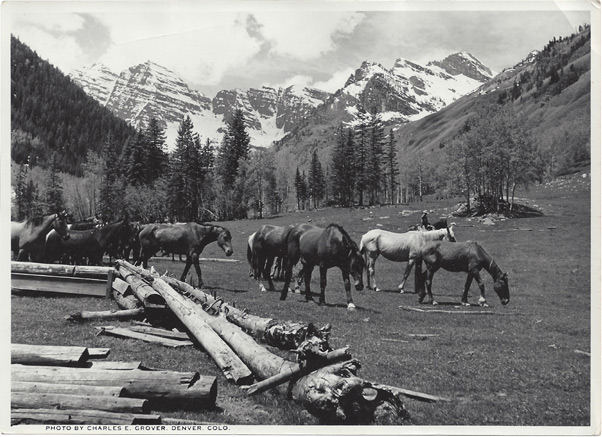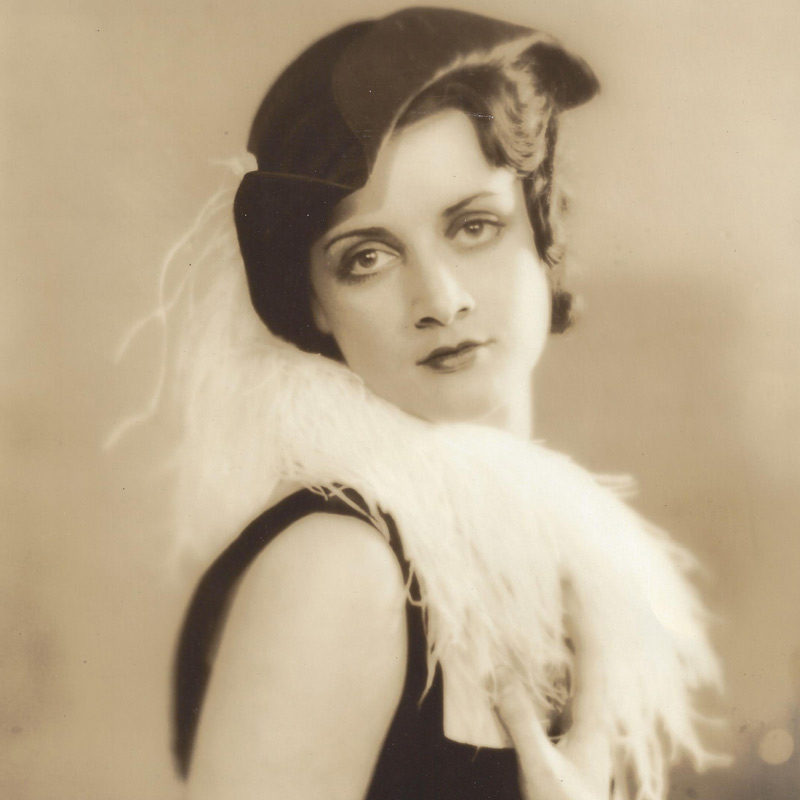 Lou performed on Broadway and in silent films with icons such as Fatty Arbuckle and Ginger Rodgers.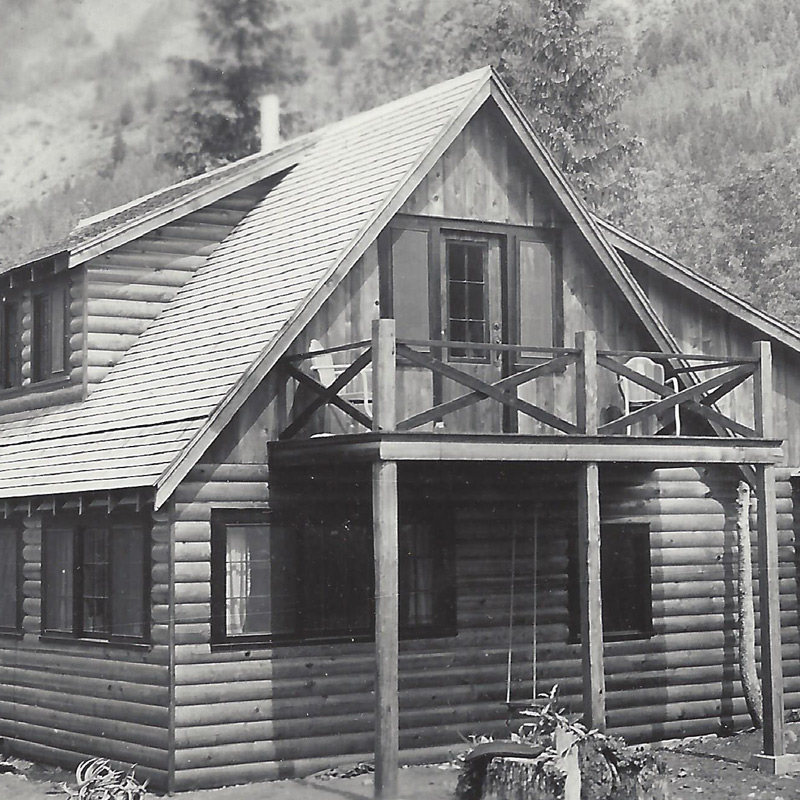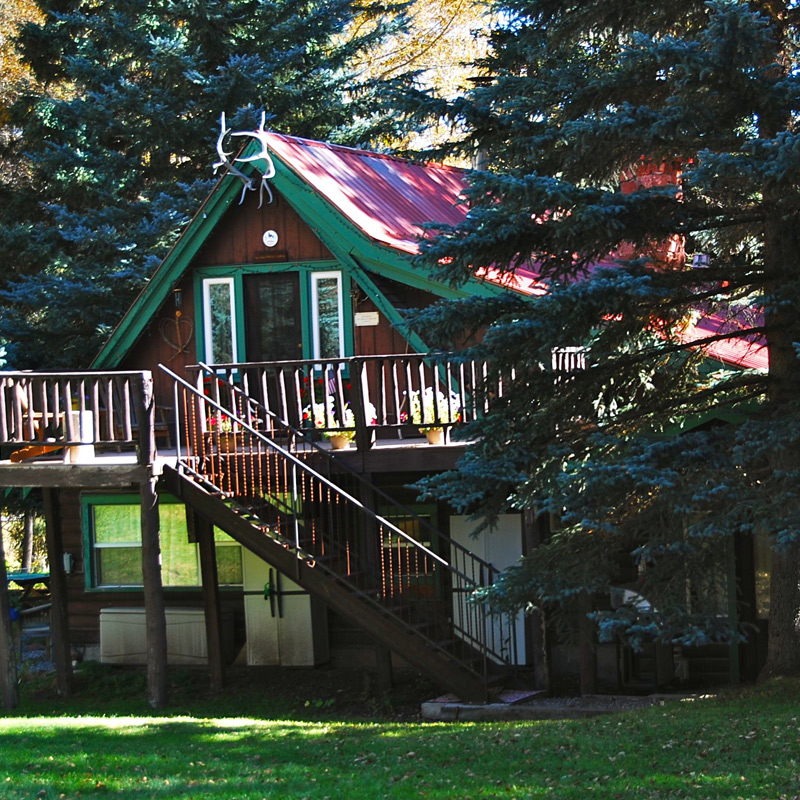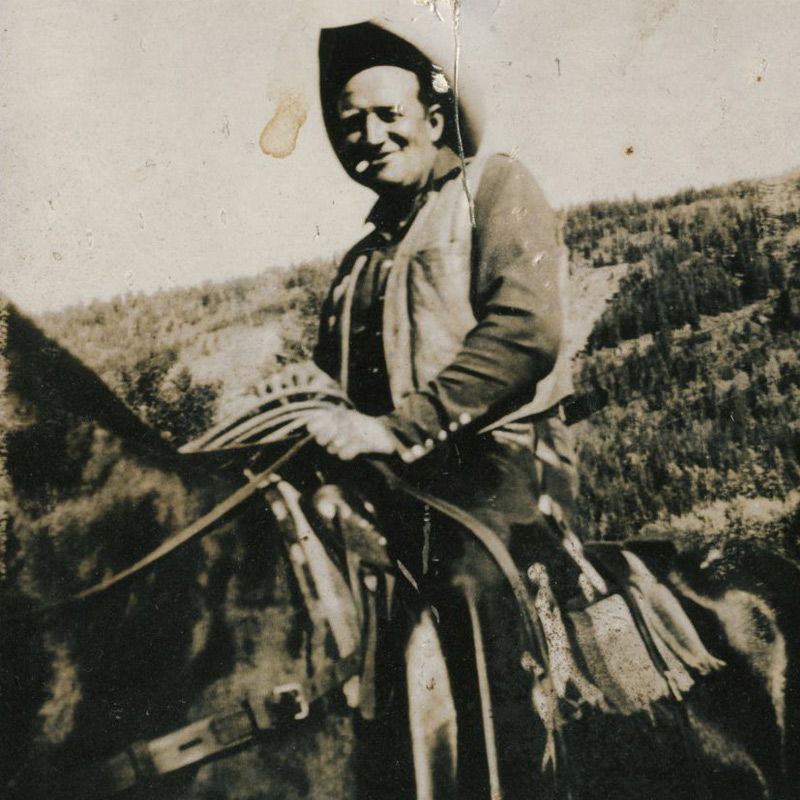 This photo was taken during the filming of a Marlboro commercial on the Ranch in 1975. Rick Deane is on the far right. Other ads photographed and filmed on the Ranch include American Eagle Outfitters, McDonald's, Pepsi, Budweiser, Nature Valley Granola Bars, Elle Magazine and numerous car commercials.